Snacks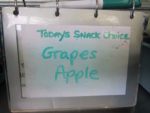 A choice of healthy snacks , milk and water are available daily. Details can be found on our snack board, located on the kitchen hatch.
Coats and hats etc.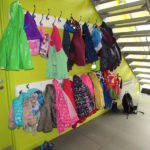 It helps if all children's belonging are clearly labelled.
Sun protection
Please ensure you apply sun screen on sunny days, if your child attends all day you will need to provide us with a bottle of sun screen, labelled with your child's name, which we will reapply at lunchtime.
Car parking
Unfortunately we do not have anywhere for you to park cars for drop off etc. We cannot parents to use the driveway for the safety of the children. The nearest free carpark is TESCO or there is short term parking on side streets such as Church Street but these can be busy.
Pushchairs/Scooters etc.
Unfortunately we do not have anywhere inside the building to store pushchairs etc. However, some parents do leave them outside the entrance. We must stress THIS IS AT YOUR OWN RISK, we take no responsibility for your property and cannot advise you to do this.