Routine is very important to help your child settle and feel safe and secure, however we like to offer as much free flow play time as possible so the children can become immersed in their play and learning.
The typical routine during a Morning/Afternoon at Preschool 345
9am / 12.30pm arrive at Preschool
Find their name card and put it on the 'Who is here today' board – Parents and carers are free to come into the setting and stay as long as they like maybe talking to your child's key person, playing a game or two, reading a story.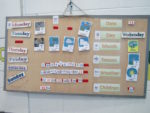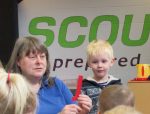 9.30am / 12.45pm Registration
A great get together time for staff and children. Looking at who's here today, the date, weather, our letter of the week, what we are doing today, important news to share. Hear us singing our registration song.
9.40am / 12.50pm Free Play
Children can access all the activities on offer; we encourage them to choose what they want to do. We will have a learning intention every day which is based on observation and assessments of the children's interests and development needs.
Children have access to a healthy snack and drink all morning. They are encouraged to be independent by washing their hands, choosing milk or water and a healthy choice of snack, they are encouraged to wash up their own pots, (never too young to start).
Children all help to tidy up the games and activities of the morning.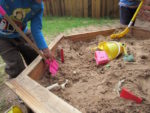 Outside play
Depending on the weather we offer outside and inside play for a large part of the session. We encourage all the children to go outside at some point. We offer a wide range of fun activities, from pedal and push bikes, sand/water play, bats balls, running games and many many more. In the event of bad weather we plan indoor games/dancing/ parachute games utilising the large space inside the hall.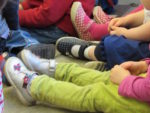 11.45am/2.45pm Story time / Singing time /Get together time
Time to slow down and reflect on our morning, we take this opportunity to read a story to a large group encouraging them to join in. Sometime we split the group up so the younger ones have a snuggle up time with a member of staff and a quiet story while the older ones have a chance to enjoy a different story. If a child is having birthday we use this time to celebrate by singing birthday songs and blowing out candles on a special cake (special because you can't eat it!). Hear us singing our story time song
12pm/3pm Time to go home
Your child's key person will also be available to talk to you at this time, please feel free to ask any questions, discuss any concerns, worries or just have a natter.