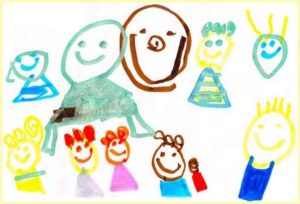 Preschool 345 is a local community run preschool based in the centre of Beeston. We welcome children from 2 years, to attend morning, afternoon or full day sessions.
Our Curriculum  and the Early Years Foundation Stage
The Early Years Foundation Stage (EYFS) sets the standards that all early years providers must meet to ensure that children learn and develop well and are kept healthy and safe, it sets out seven areas of learning and development and an educational programme which shape our curriculum.
Our Curriculum
At Preschool 345 we have a curriculum to inspire our children with an enthusiasm for life-long learning.
Every child matters therefore our curriculum is responsive and adaptable to meet diverse needs to ensure all our children succeed.
We aim high for every child, building on what we know about them we set ambitious goals and through our enabling, stimulating environment our experienced practitioners support and motivate them to learn what they need to succeed.
Our Pedagogy
A child's work is play, give children the opportunity to explore and take ownership of their world they will learn, at 345 we ensure our environment is welcoming and accessible with lots opportunity for child led learning.
Every child has an experienced key person who ensures each child is cared and nurtured so that they feel safe and secure, our practitioners offer a mix of different approaches of teaching from modelling, observing and guided adult led activities. We notice what our children can do and build on this knowledge to ensure we have meaningful interactions with them.
Communication and Language
Speech and language skills underpin all areas of children's development by providing a strong foundation for other areas of learning, our experienced Language Lead has a driving passion to promote crucial messages around speech and language ensuring our environment and practitioners are as communication-supporting as possible.
We are a charity, run as a non profit organisation. Preschool 345 is run by a committee of volunteers who all give their time freely.
On our website you can find lots of information about us and how we operate. If you would like any further information or are interested in registering your child on our waiting list, please contact us.
We encourage parents and carers to take an active role in supporting their child at preschool. On this website you can find out more about what the children get up to and how you can get involved.